Novel Novice is having a 30 Days of Twilight Countdown.
Novel Novice Twilight is pleased to present 30 Days of Twilight … the ultimate countdown to the Twilight movie.
Starting Wednesday, October 22nd, Novel Novice Twilight will present something new and exciting everyday to countdown the last 30 days until the U.S. release of the Twilight movie on November 21st.

Each day, we will reveal new projects, features, contests, downloads, activities and other fun goodies – plus a new, daily video. Each video is brand-new and made exclusively for 30 Days of Twilight. Videos will include spoofs, music videos, mock newscasts and more!

We invite everyone to check out Novel Novice Twilight everyday for the latest 30 Days of Twilight goodies. If you miss a day, you can find all of our 30 Days of Twilight posts compiled here: http://twilightnovelnovice.com/30-days-of-twilight/

As part of our first day for 30 Days of Twilight, we are also announcing our plans for Twilight Midnight Movie Madness.
Much like our Breaking Dawn Midnight Release Parties coverage, we want you to share your experiences at the earliest screenings of Twilight.

When you attend the midnight opening (or any opening weekend screening!) take pictures and/or video and e-mail them to us, along with a story about your night. Send everything to: [email protected]
Then, check Novel Novice Twilight starting the weekend of Nov. 21st to see pictures from around the world!

Remember, pictures from any opening weekend screening are welcome — not just midnight screenings! And for those of you outside the U.S., feel free to send us pictures from your opening weekend, once the movie hits theaters in your country.
You can get all the details – and see pictures after Nov. 21st – here: http://twilightnovelnovice.com/exclusives/midnight-movie-madness/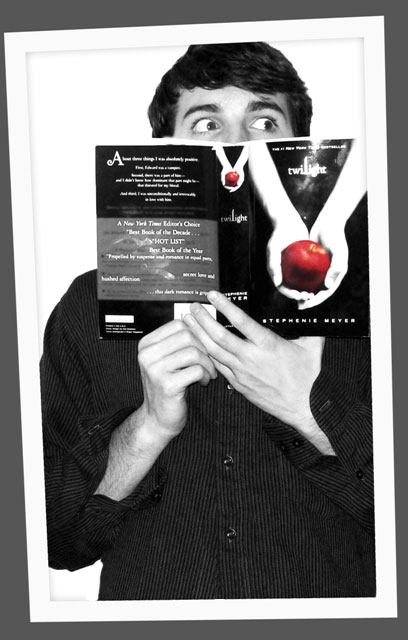 Kaleb Nation, Mr. Twilight Guy, is now well into Eclipse in his never ending quest to read the Twilight Saga and give the male perspective. Kaleb, in a recent blog also confirms his presence at the Twilight Live panel, and talks about an upcoming Internet appearance this weekend.
"Also, on October 25, I will be doing an extra-special live BlogTV IN THE SAME ROOM with Bailey, from a yet-to-be-disclosed location (erm, people might already know where it is, but I don't know if I'm supposed to say or not). As usual, we will cause you to scream with laughter so loudly, your ears will fall off and your ribs beg for mercy. I have spoken with Dragoat's agent, but have yet to receive confirmation of his appearance."